Sinds eind 2019 is Rodrigo Bonilla de nieuwe general manager oncology van Novartis Nederland. Hij komt oorspronkelijk uit Uruguay en heeft al in veel verschillende landen gewerkt. Hij is in de kerstvakantie met zijn gezin verhuisd naar Amstelveen. Hieronder stelt hij zich aan u voor. Omdat zijn Nederlands ongeveer zo goed is als uw Spaans, doet hij dat in het Engels. 
What did you know about the Netherlands before you moved here?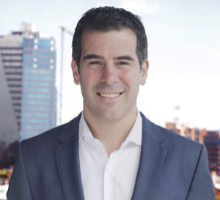 Football, of course! I love the football played by the Orange Machine and of course Suarez (who played for Groningen and Ajax) is originally from Uruguay! Besides, I have a friend from the Netherlands whom I met in Paraguay 15 years ago. He lives in Zwolle and we kept our friendship alive during all these years. Even when the Dutch team played against Uruguay! I always loved the Dutch culture. In fact, I'm also a very direct person. The way people treat each other in the Netherlands, with respect and as equals, is very appealing to me.
On the professional side, I'm very impressed by the Dutch life sciences sector. The opportunities that the Netherlands have for R&D are incredible! I feel proud of my job for Novartis in the Netherlands and of our efforts to change and improve the life expectancy and quality of lives of patients. 
Since coming here, what did you find the most remarkable thing about the Netherlands or the Dutch?
To me, the Dutch are the perfect example of being unbossed! Also, I'm very impressed with the educational level of everyone. People here are eager to learn, are curious and speak English very well. 
Since I was in South America for years, I was used to hugging my colleagues. That's a bit different over here....But who knows, maybe the Dutch will get used to that in the future!
What will you miss most from your home country?
Family, barbecues with friends, beaches, better weather! Since this is my 8th country, I know the transition will take a while. But I know the process and luckily, I do not get home sick. 
How will you impact Novartis Oncology during your stay?
I love to be recognized as a leader that unleashes the power of our people. I observe people's potential and love to catalyze that energy or potential of the individual in the best way, and align it towards our goals as a team!