11. mei 2022 18:30 - 22:00
Thema: New insights into the cause, the care and the cure
Moderator: dr. P.A.W. te Boekhorst, Erasmus MC, Rotterdam
Inschrijven: het is niet meer mogelijk in te schrijven voor het '3e Nationale MPN Symposium'
---
Deze derde editie zal op woensdag 11 mei 2022 plaatsvinden in het Karel V te Utrecht. Dit keer zal het zwaartepunt zijn 'kwaliteit van leven'. Na prof. Claire Harrison en prof. Srdan Verstovsek zal prof. Ruben Mesa deze editie virtueel een keynote lecture verzorgen. Prof. Mesa leidt het Mays Cancer Center aan het UT Health San Antonio MD Anderson Cancer Center en staat internationaal bekend om zijn QoL studies bij MPN. Ook zal een toelichting gegeven worden op nieuwe wetenschappelijke inzichten. Hiervoor hebben we uitstekende sprekers uitgenodigd die op locatie het programma compleet zullen maken.
Programma
Tijd

Onderwerp

Sprekers

17.45 - 18.30
Registratie en buffet
 
18.30 – 18.35
Welkom door de voorzitter
dr. Peter te Boekhorst (EMC)
18.35 – 18.45
MPN Patient Voices
John Hoogland, voorzitter MPN Stichting
18.45 – 19.05
Targeting the cellular cross-talk in MPN-related bone marrow fibrosis
dr. Rebekka Schneider (EMC)
19.05 – 19.35
Itch in MPN: role for mast cells?
dr. Maud Hermans (EMC) & dr. Peter Westerweel (ASZ)
19.35 – 20.20
Virtual Keynote: 'managing MPN in clinical practice; how to treat symptoms?'
Prof Ruben Mesa (Mays Cancer Center, San Antonio, USA)
20.20 – 20.40
Koffie
 
20.40 – 21.00
Stem cell transplantation for myelofibrosis
dr. Moniek de Witte (UMCU)
21.00 – 21.20
New developments in the treatment of MPN
dr. Marielle Wondergem (VUmc)
21.20 – 21.55
Interactieve casuïstieksessie
dr. Saskia Klein (UMCG) & dr. Mels Hoogendoorn (MCL)

Panel: prof. Ruben Mesa, dr. Moniek de Witte, dr. Marielle Wondergem
21.55 – 22.00
Afsluiting
dr. Peter te Boekhorst
Virtuele keynote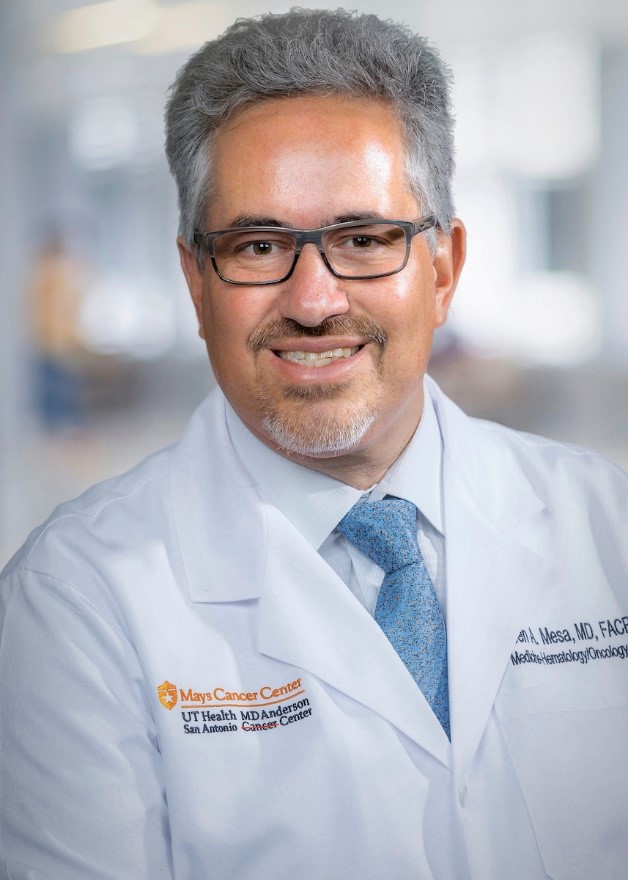 Ruben A. Mesa, MD PhD
Director Mays Cancer Center at UT Health San Antonio MD Anderson
Dr. Ruben Mesa is the executive director of Mays Cancer Center at UT Health San Antonio MD Anderson Cancer Center, one of only four National Cancer Institute-designated cancer centers in Texas. For almost 30 years the cancer center has had a deep focus on providing world-class cancer care, advancing cancer research and educating the next generation of cancer care scientists and care providers.
Dr. Mesa's practice builds on his role as an international expert on myeloproliferative neoplasms (MPNs), a group of bone marrow disorders that often lead to leukemia. He has been involved in MPN research for more than 20 years. He led the development of National Comprehensive Cancer Network's panel guidelines, the first U.S. guidelines on the diagnosis and treatment of myelofibrosis, polycythemia vera and essential thrombocythemia. Dr. Mesa has been the principal investigator or co-principal investigator of more than 70 clinical trials. He co-developed the MPN Landmark Survey to examine patients' perceptions of MPNs related to disease burden, QoL, productivity, and activities of daily living and is currently leading the investigation of several drugs for MPNs. Dr. Mesa was elected to sit on the National Board of Directors for the Leukemia and Lymphoma Society and sits on the board of the MPN Education Foundation.
After earning degrees in nuclear engineering and physiology, with minors in radiation biophysics and bioengineering, from the University of Illinois at Urbana-Champaign, Dr. Mesa received his medical degree from the Mayo Graduate School at the Mayo Clinic College of Medicine in Rochester, Minnesota. He completed his residency in internal medicine and his fellowship in hematology/medical oncology at Mayo. He is a fellow of the American College of Physicians and is certified by the American Board of Internal Medicine in hematology and medical oncology.
Andere sprekers
John Hoogland (MPN Stichting)
dr. M.J. Wondergem, Amsterdam UMC, locatie VUmc
dr. M.A. de Witte, UMC Utrecht
dr. R.K. Schneider, Erasmus MC, Rotterdam
dr. M.A.W. Hermans, Erasmus MC, Rotterdam
dr. P.E. Westerweel, Albert Schweitzer Ziekenhuis, Dordrecht
Interactieve casuïstieksessie door
dr. S.K. Klein, UMC Groningen
dr. M. Hoogendoorn, Medisch Centrum Leeuwarden
Karel V, Utrecht, Geertebolwerk 1 te Utrecht